Maedaya has been on my wishlist for a very long while, after hearing good review of it from my ex-workmate. But it's not in the city, which means I have to take a tram ride to the restaurant plus I was told that there'll always be waiting time to be seated as it is almost always full house. So it just got postponed to unknown date. Major reason being I hardly travel out of city for meal except for brunch hunting. I have no idea why only brunch! Anyway, I finally made it with boyfie and housemates for farewell. Well not really a farewell because she's just going back hometown for one and a half week lol
Aren't the interior gorgeous?? Details details.... Haven't been seeing the wooden plate for very long time since my last visit to Japan. It just added an authentic feel to the restaurant! I also love how they incorporate so many ropes to the walls and ceiling, even camouflaging it into curtains! It reminded me so much of the traditional beaded doorway curtains in my aunt's house which looks like something below.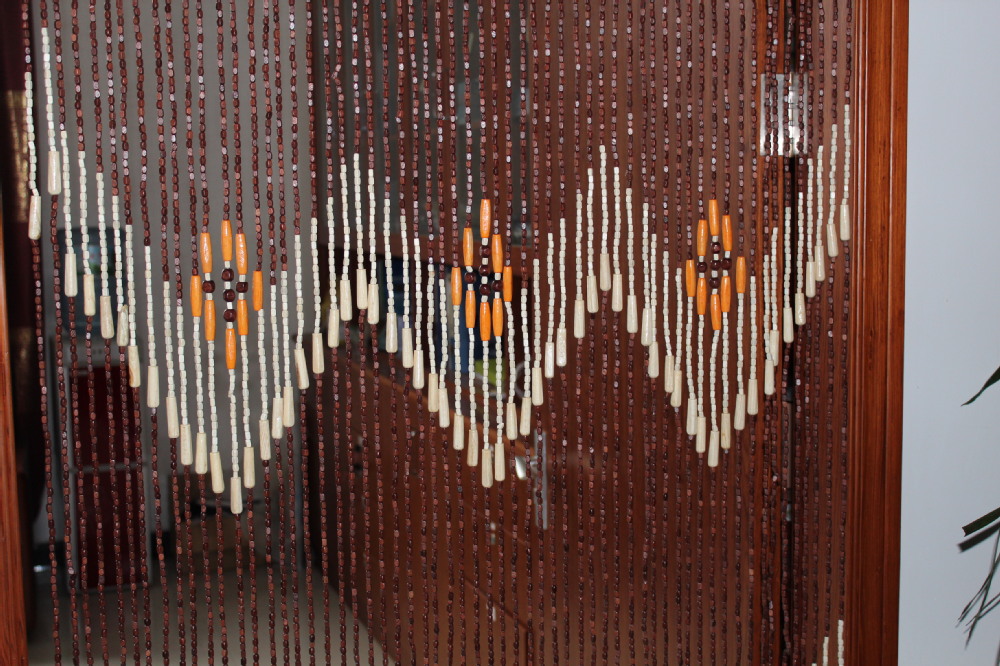 Unfortunately, the upper level doesn't look as awesome as the ground level. We were seated at upper level as it was full at ground level. And the upper level has bigger tables suitable for groups. We actually did waited when we arrived, but we didn't wait for too long so it was quite a pleasant wait.
I've read from some reviews that they used to have this 3 pages long menu, but now they've catched up with the technology and is using the ipad as menu and ordering function. It definitely presented clearer menu categories and individual food picture, and good for quick and accurate order, but downfalls are it is hard to have a look at menu together when you're in a group and would like to discuss food sharing option, and you can't cancel any order once u put it through. They serve free green tea, but expect least out of this.It is not good. Just skip this or pay for sake as what they are famous.
This is the bomb! Well marinated and BBQ-ed skewers!!! The further plate is chicken thigh skewers (Yakitori) in original flavour and plum sauce (sweet and sour). The nearer plate consists of a variety of skewers (Sumiyaki set). The fancy rolled up skewer is bean curd. My first time eating bean curd this sumiyaki style! We agreed that the Yakinori is the best, although I pretty much like the bean curd too =D
Can't remember the exact name for this salmon dish but it was deep fried and topped with wasabi mayo. The salmon was ok, but the sauce was good.
And we had Double Salmon Sushi just because we love salmon like that =X This is one huge sushi plate! It's not like those small sushi rolls that you get for the ordinary sushi shop and the salmon is really fresh!
Karaage chicken, one of boyfie's favourite japanese/korean dishes. Unfortuantely it turned out to be really not up to the standard set by the previous few dishes. It was quite a let down. It is crispy just not the taste that we normally had for this dish.
Upon finishing our dishes, we are quite satisfied. It is the kind of meal that you enjoyed it so much and you don't need to overload your tummy to get satisfied. You could just appreciate all the flavours you had and be grateful of it already. But to top it off, I ordered this ice cream combo of black sesame and green tea to share with Elaine. This is to satisfy our dessert tummy. Always have space for dessert hehe.. I guess I just couldn't resist green tea ice cream everytime I see it on menu in a Japanese restaurant.
We spent about $23 each for our meal and I think it is totally worth it for the fresh quality and great flavours! Most of the dishes were very yummy expecially the skewers. Will definitely be back again for more...